Sunday, July 13, 2014
Lionel Messi doesn't take up much space on the field, given that he's all of 5-ft.-7 in. tall, if that. Then again, he doesn't need much. Messi is one of those performers who, like a sunbeam splitting through thickening clouds, produces a moment of brilliance when things are getting dark. He did it against Nigeria, Iran and Switzerland to keep Argentina marching toward the final.

Argentina is likely to need such a Messi moment to be able to win its third World Cup title in this, its third World Cup final against Germany. The Argentines won 3-2 in 1986 on the chubby legs of Diego Maradona, equal parts devil and delight in that tournament, delivering the pass that created his team's winning goal, and enshrining himself in his nation's history.
Four years later, a fading Maradona and Argentine team got rolled by a multitalented German team that included current U.S. coach Jürgen Klinsmann. It was a match widely considered to be one of the worst finals ever because Argentina went into a defensive shell, never to emerge. Too bad only one team came to play, noted the acerbic German coach Franz Beckenbauer after the game.
You couldn't blame current Argentina coach Alejandro Sabella one bit if he were tempted by that approach this Sunday at the famed Maracanã stadium. Given the way Germany stormed past Brazil 7-1—with multiple scorers and multiple points of attack— taking shelter could prove the wiser strategy than throwing caution to the wind.
Please don't, Alejandro. This World Cup final deserves both teams on full display at both ends of the pitch. We certainly know that Argentina can defend. Against the Netherlands in the semifinal, a Javier Mascherano-marshaled back line repelled Arjen Robben, Wesley Sneijder and Robin Van Persie as if they were tropical mosquitos, leaving Dirk Kuyt to launch clueless crosses to nowhere.
"They think about what they're doing and they're not easy to break down," noted the French great Bixente Lizarazu, a World Cup winning defender about the Albiceleste. "Their forwards' speed, liveliness and technical ability are impressive, but what has struck me the most about them is the way they break up their opponents' rhythm."
Without Angel di Maria in the lineup against the Netherlands due to injury, Argentina clearly lost some of its own rhythm. The Dutch supplied Messi with a pair of escorts whenever he got on the ball and Germany will pay similar attention. DiMaria's ability to exploit defenders with his speed down the flank has to be respected–which could yield the little man a little more breathing room. If di Maria isn't available, the return of a fully Sergio Agüero will also make things easier for Messi.
"But we can't burden him with all that responsibility," said Argentina's Maxi Rodriguez. "We know he's a game changer, but we have to support him. The upside is that the group is well drilled: everyone knows their role, "
Argentina might profit by considering the two teams that gave Germany fits in this World Cup: Ghana, which drew 2-2 with them in the group stage, and Algeria, which went out 2-1 in extra time in the round of 16. Both teams shared a go-flat-out philosophy of pressuring the Germans all over the park, and attacking wide and furiously. It worked so well that Germany coach Joachim Low had to change formations and move Philipp Lahm back into defense from midfield.
This approach for Argentina would not be without risk. "The German outside wingers will track defensively for the entire match," says former Iranian assistant coach Dan Gaspar, whose team lost 1-0 to Argentina. "My concern about Argentina is that when they fly forward their tendency is not to have the same willingness to recover as the Germans. As a result, Argentina may find itself down in numbers defensively."
And that, notes Gaspar, is a very bad thing.
In scoring four goals against Portugal and seven more against Brazil, Germany's midfield trio of Mesut Özil, Thomas Müller and Toni Kroos demonstrated how quickly it converts defense into attack. At the same time Miroslav Klose was able to set the World Cup career scoring record. Germany is about options, all of them good.
"I think Germany can and will contain Messi," notes Gaspar. "And they will be able to pierce the Argentina midfield and defense through the middle unlike the Dutch, who only seemed to play from the wings in the semifinal"
But like a lot of fans, he's also pulling for La Pulga, the flea, as Messi is known. The four-time world player of the year will always be one of the greatest players the game has known. But there's nothing like a World Cup trophy to confirm it.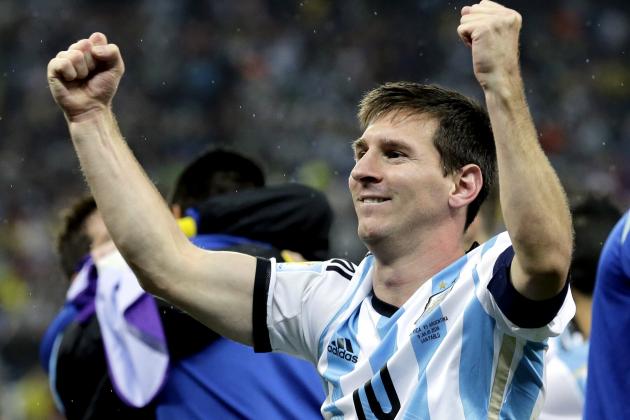 Victor R. Caivano/Associated Press
Argentina heads into the World Cup final on the
heels of a cautiously played draw with the Netherlands
that was decided in a shootout.
However, while they are playing in Brazil with a measure of home-field advantage and boast the world's best player, they are the betting underdog facing Germany, who dismantled host Brazil 7-1 in the semifinals.
Argentina is a significant underdog in the World Cup final, currently sitting at 5-2 at most sportsbooks tracked by Odds Shark. The Germans were 13-10 with a draw line (after 90 minutes) priced at 9-4.
Here are five reasons why Argentina can pull off the upset and win the World Cup final.
While Argentina is known for their attack, featuring Lionel Messi and company, the defense is the reason why they are in the final. In the three knockout-stage matches, Argentina has not allowed a single goal.
In the semis, they shut down the Netherlands' solid attack and kept Robin van Persie and Arjen Robben from scoring. Only one of the past six World Cup finals has seen more than two goals, so under bettorsare focusing on the lines ahead of Sunday's match.
While Lionel Messi has not scored in the last three matches, he leads Argentina in goals scored for the tournament and will get chances against Germany. He also has an outside shot at winning the Golden Boot if he can score twice, and he is the third betting choice at 12-1 to win the prestigious trophy.
Also, with Messi being the focus for the German defense, it affords other attacking players space around the box. That is good news for struggling Gonzalo Higuain and Sergio Aguero.
While Argentina is not as strong as Germany in the midfield, and they did not play great in that area against the Dutch, they have the talent and form to step up in the final. Their speed in the middle of the pitch will be key, and they must disrupt the German passing lanes.
The World Cup has been hosted in South America four times, and a South American team has won on each occasion (Uruguay in 1930 and 1950, Brazil in 1962, Argentina in 1978).
Home-continent advantage meant nothing for Brazil against Germany, but Argentina can get the crowd on its side with some early offensive flourishes.
Messi leads an Argentine attack that is mostly small and fast, and they can give the bigger and more physical Germany back line problems. Messi was thwarted in the match with the Netherlands and constantly flanked by one or two defenders.
But he has the skill to shed such attention and generate scoring chances for himself and his teammates.
Tuesday, July 8, 2014